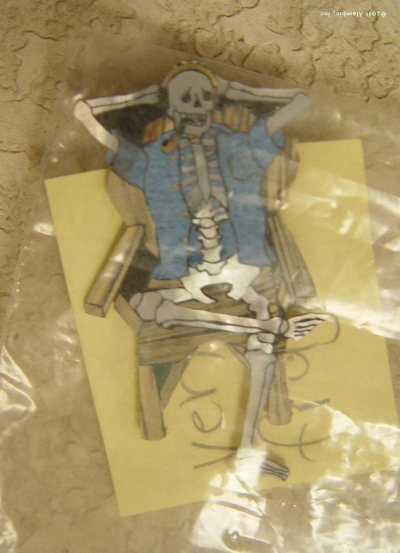 'Very Fragile.' That's what it says inside the little bag. Not to worry, though, as Jack will soon find security in a new ebony home (see below) under his tree. As you can see, things have been moving along quickly! Our subject has his headphones, and has been set in a permanently relaxed position on his Adirondack chair. Things have been going so smoothly (that's what 18 months of sketching and planning will get you), that Alembic expects the medallion to be completed and placed in the guitar within a week!
If you have a moment, please reacquaint yourself with the color mockup here. It will give you an idea as to the high level of skill and attention to detail present in this piece of art. It truly is remarkable, and as good as it looks here, folks at the shop have been telling me that it is even more impressive in person. I'm also told that jaws are regularly dropping during the shop tour when people enter James' sanctuary and see what he's working on.
Pictured below is the piece of ebony into which all the individual objects will be inlayed. Note that for each item cut, its exact counterpart needs to likewise be cut out of this ebony, so it all fits together as a flat, finished piece – making this project (at least) doubly difficult!