Monthly Archives:
June 2009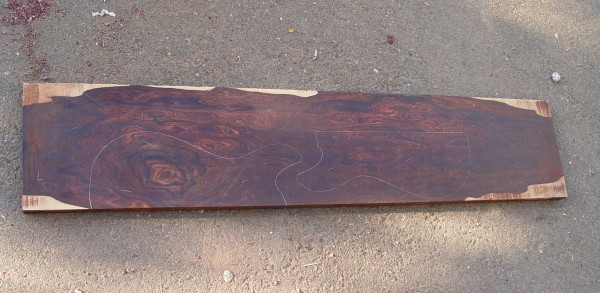 This picture shows board 'E' in its entirety.  I've decided to choose this board for the top and back body laminates, as well as the back headstock laminate.  It's always good to get the front and back laminates from the same board, to try and maintain an overall look – although you never REALLY know what you're going to get when you slice the wood open!
Now, another difficult decision – which part of the wood to use?  The entire board stands on its own, like a piece of art.  I've been moving the templates around in Photoshop, to help me decide where to cut.  The left template represents the front of the guitar, and the right represents the back.   These templates are not oversized, but actual size.  The body will be beveled about a half-inch from the edge.
Once final positioning is determined, the boards will be cut and added to the body "sandwich" of wood.
Last week, Mica said she had some more Coco Bolo for me to look at, and here it is.  This board is a staggeringly fine example of old Coco Bolo, clearly something special.  It was pulled out of a private collection of REALLY old wood.  Most photographed examples of Coco Bolo can't adequately convey the mesmerizing qualities of the wood, and this is no exception – but you can still see from these pictures just how much is going on with this piece… massive swirls, bold figuring, and nice contrast that I think will really pop when sealed.  The top two pictures are from the new board.  The bottom picture shows the new board ('E') with my previous top picks, 'C' and 'D'.
This is going to be one difficult choice to make!