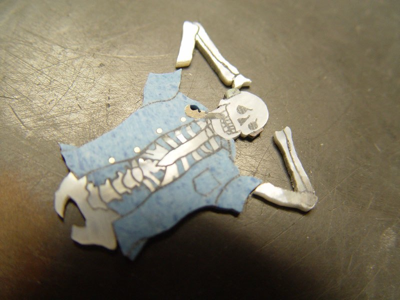 Here is a VERY exciting picture to share! I've been waiting for this one for a long time. This is the first glimpse of the actual medallion inlay. For the past few weeks, master inlay artist James has been painstakingly bringing Susan and Mica's artwork to life – here you see the most important and one of the most intricate portions of the inlay. Each tooth, rib, spinal disc, shirt button, etc. is its own individually cut piece of material, meticulously combined to make one solid object. Shown here as a rough sanding, things will shine up quite nicely when the medallion is finally placed in the body of the guitar.
Over the next few weeks, I expect steady progress as the inlay is completed.
Below are a couple of lower legs whose individual bones have been put together, and are now waiting patiently to be united with their femora.