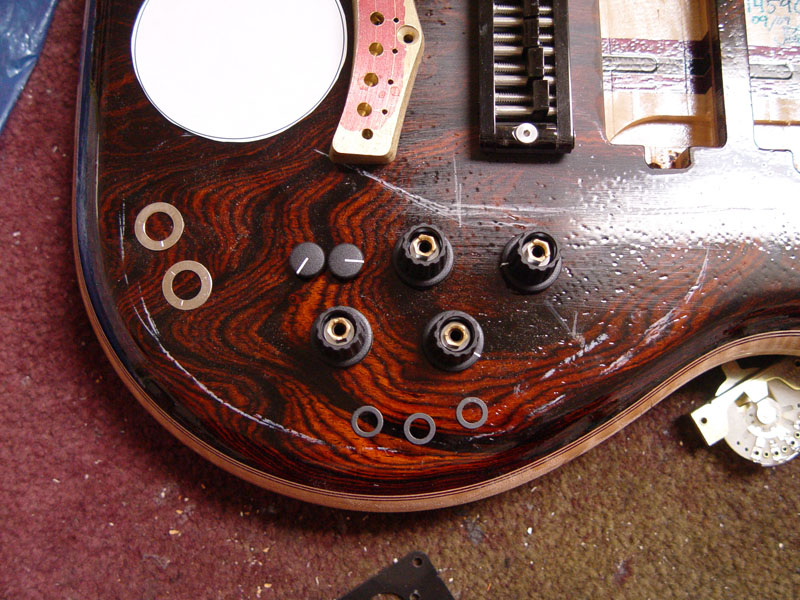 OK – we're getting real close now!  I just had to change a few elements of the previous layout.  Most notably, the three switches at the bottom have been moved closer to the pickup selector (actual hardware shown below the guitar).  I wanted them to present themselves as an extension of the selector, so the switches begin as the selector ends.
Also, I asked that the two 1/4" jacks be offset from each other a bit more than they were.  This move should help with the strain relieve on the cables and plugs, and provides a more natural angle for the cables to fall.
This is very close to what will be the final layout, but I'm not quite there yet.  The four main volume/filter knobs are now a bit too close together.  I'm asking Mica to move the two knobs furthest from the 1/4" jacks a bit to the right, more like they are shown in the previous post.  I think it will be more aesthetically pleasing that way, but I also like the idea of having the main volume knob a little inside of the bridge.  That would put it in a more natural position for my hand to reach while I'm playing.
I'm hoping to have a revised layout very soon.  One more pass at this should be all that's needed…  You can measure and design many times, but you can only drill once!