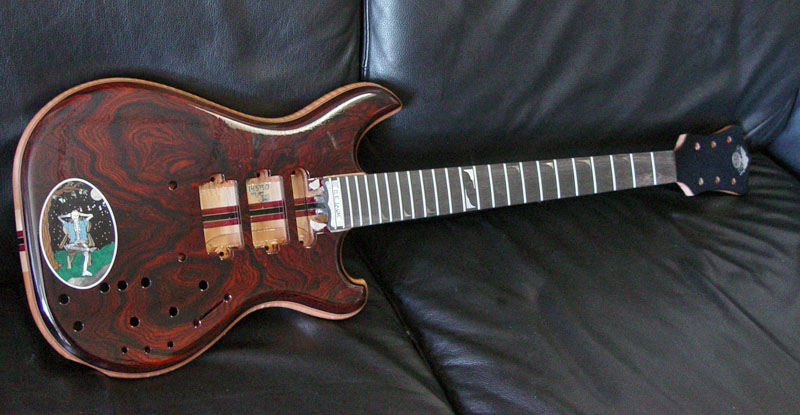 Alembic called yesterday with some great news!  Since I last spoke with them, the guitar has been in "final cure" – a resting period during which the top layer of finish is allowed to fully harden.  It also better prepares the wood for the rub out, which is going to happen today.  The wood finishing process must have gone smoothly.  I've heard stories of layers of finish having to be stripped away after imperfections (like dust, air bubbles, etc.) are found, greatly increasing the time it takes to get to the rub out stage.  The fact that the wood is ready to be rubbed out means the guitar has passed that crucial last inspection, and the finish has been deemed worthy in the eyes of the artisan.
During the rub out, any contaminants acquired during application of the final coat of finish are removed, and the final sheen of the instrument is determined.  In the case of my guitar, the entire instrument will have a high-gloss finish except for the neck, which will have a satin feel to it.
The first step in the rub out process, as I understand it, is to finely sand the entire instrument, which removes any surface dust or sputter spots from the spray gun.  From there, the instrument is repeatedly rubbed with sandpaper of increasingly high grit.  Steel wool and pumice can also be used.  The neck, getting a satin finish, will not be rubbed out to the same degree as the rest of the body.  The more progressively fine you go with the leveling material (sandpaper, etc.), the higher the gloss will be.  At some point the neck won't receive any more treatment while the rest of the guitar continues to get shiny.
At the end of the process, the finish is hand buffed, to ensure a beautiful, even shine that will flawlessly showcase the wood and inlay work it protects.
Now while the rub out is happening, final preparations of the electronics are being made.  Last night, Ron and Tony were busy cutting, soldering, and wiring up the electronics package.  They use a dummy guitar body which exactly duplicates my custom control layout, so everything is cut to the proper length.  When the rub out is complete, the electronics will be removed from the dummy and placed in the real thing, and that should happen tomorrow or Monday.
I don't have any pictures that show the guitar after the final cure yet, but I'm including this recent shot of the entire guitar.  You can see that the frets are on, the fingerboard inlays are done, and if you look closely, you can just make out the Alembic logo at the headstock.  This is the first picture I've gotten of the full guitar in a long time, and the first since the medallion was inlaid.  I can finally see everything in context.  It looks perfect.