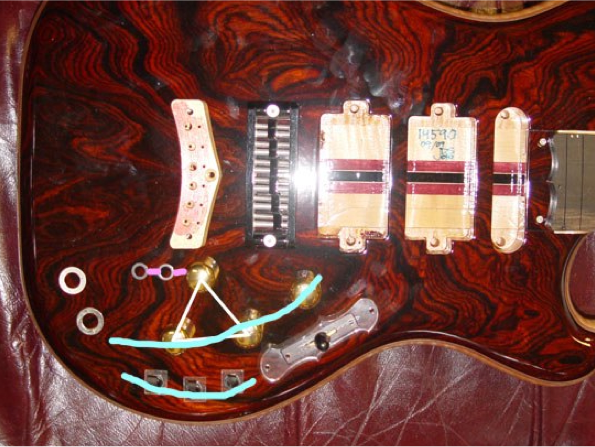 It has been a while since my last entry, but in that time, another milestone has been reached! I came to the realization that it was going to take a personal visit to Santa Rosa for me to approve a control layout, and lucky for me I was able to make it happen while in San Francisco for AES. It's a beautiful drive over the Golden Gate Bridge, through Marin County. I got to meet and thank the fine people who have been lovingly crafting this instrument for the last two years. It was very important to me that, somehow, I'd be able to meet them, and I think they were equally excited to meet me as well. Susan told me that they actually meet less than 10% of their customers, so it was a treat for them as well. You can see some pictures from my field trip here.
The picture above details what would become the final control layout that was used to plot the guitar. This picture shows my "intentions": three of the four brass knobs and the three black switches follow the contour of the guitar; another group of three knobs form an equilateral triangle; the distance between the two MIDI scroll buttons are equal to the distance from the first button and its volume knob. From this photograph, the exact locations are drawn directly on the guitar, and then bored through the wood with a drill press. If I was going with a standard control layout, these holes would have been drilled out along with the pickup cavities – but of course, I took the long way.
'Patience' is not often used when expounding my strengths, but who now can say otherwise? The control locations were first mocked up on July 16, 2009 – an agonizing 544 days ago! It took me that long to find a functional and aesthetically pleasing layout that I was at peace with. Believe me, this process has highlighted my shortcomings more than my virtues!
It was late last night when I got the email from Mica confirming that the control locations had finally been drilled (but not before again confirming with her father, Ron, that the electronics would fit in the desired locations. I have a feeling that she's just as happy as I am that we've gotten past this important step!
I'll post a picture of the actual drilled instrument later today.
I'm one giant step closer to completion!